Acura TLX vs Audi A4

Both the 2019 Acura TLX and the Audi A4 epitomize sedan luxury, offering ample comforts and technologies to spare. But when Pittsburgh, Wexford, and Cranberry Township drivers want reliably sporty performance, day in and day out, which can they turn to?
In this comparison, the Baierl Acura team will show you how the TLX compares to the A4 in terms of engine power, handling, and style. Read our Acura TLX vs. Audi A4 comparison to decipher which luxury sedan best suits you.
Acura TLX vs Audi A4: Pure Engine Power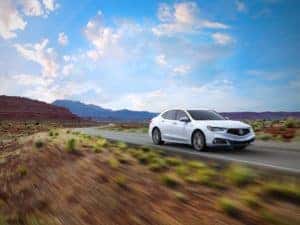 In luxury vehicles such as these, power is the standard. Each offers two different engine options with muscle that goes above and beyond the more conservative options of the garden variety.
For the Audi A4, each option is a 2.0L 4-cylinder engine; the entry level coming with ultra® technology. With ultra® tech, the base A4 engine maxes out at 190 horsepower. However, if you bump it up to the next engine option, you'll be able to generate 252 horsepower.
The Acura TLX charges out of the gate with a base inline 4-cylinder that produces 206 horsepower. Already it surpasses the base option in the competitor. However, if you opt for the available V6 engine, you'll really leave the A4 in the dust. With 290 horsepower, you can charge ahead without any problem at all.
Sporty Handling
High power is hard to handle if your car doesn't have the steering and overall wheel grip to balance it out. And in luxury brands such as this, you're rightfully expecting that sense of precision.
The 2019 A4 offers standard front-wheel drive in all models, with its own all-wheel drive system available. When paired with electronic stability control, this allows the Audi A4 to maintain control on slippery or loose gravel roads.
However, the TLX does things a bit differently. Instead of offering standard front-wheel drive, it offers standard Precision All-Wheel Steer™. This exclusive system can independently adjust rear wheel toe angles for increased stability, no matter the roads. Its tuning goes the extra mile where the A4 drivetrain falls short.
Plus, the 2019 TLX offers Super Handling All-Wheel Drive™, too. With available torque vectoring, it enhances cornering, lane change abilities, and overall grip on slippery roads. In poor weather or simply in the fast lane, the Acura TLX just seems to drive smoother.
Styling That's Never Out of Fashion
To match a sporty drive, you need a sporty look. Both luxury sedans seem to reach for that distinction, both outside and inside.
The 2019 Audi A4, for instance, offers optional full LED lighting up front and dual exhaust outlets in the rear. All that mixed with the signature slotted Audi grille make for an aggressive and speedy-looking exterior. However, the interior, though technologically well-endowed and trimmed in leather, doesn't do much to further this.
The 2019 Acura TLX offers the A-Spec® package, on the other hand, which enhances a sporty look in the cabin and the exterior.
The A-Spec® TLX has a piano-black rear spoiler, piano-black diffuser, and tough-looking 19-inch wheels for a body that blasts down the highway with speed and style.
The interior of the Acura TLX has available red leather with contrast stitching, and piping makes the sport seating pop. This is of course highlighted by the red accent lighting and red on black gauges. From top to bottom, it screams sporty.
2019 Acura TLX vs Audi A4
When it comes to technologies and comfort, the Audi A4 is no slouch. However, Wexford, Pittsburgh, and Cranberry Township drivers will find that the 2019 Acura TLX just seems to offer a brawnier, more sport-tuned package.
To experience the TLX firsthand, come take it for a spin at Baierl Acura. Contact our team online or over the phone to schedule your test drive now.